---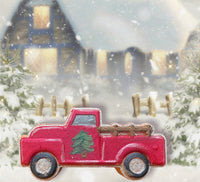 CHRISTMAS TRUCK BATH BOMB*
Created from the Seoul & The Happy Unicorn Children's Boutique
 Our holiday collection makes the perfect gift for anyone of any age!
Don't forget to sign up for our rewards program and we now accept Sezzle!  FREE shipping on orders $75+ (not applicable to wholesale)
The colors inside the bath bomb are random. If you want something specific please leave a note a checkout.

 Not every bath bomb is created equally!  All bath bombs are handcrafted and made in Minnesota using only clean FDA/Costmetic approved ingredients. Don't be fooled by "cheaper" bath products at the expense of your skin and health. Our standards and expectations are what set us apart from the "big box" products.  All batches are tested to ensure quality and safety.  
We have additional scents available. Please reach out to me if you want something different than what's listed at www.Facebook.com/iloveswt


All bath products are for external use only & use only as directed. Please keep in mind that they are not suitable for children under the age of 3. We recommend parent supervision especially during the "fizz" process. We add oils to our recipe so please use caution when exiting the bath/shower as some surfaces may become slippery.  Some bath products come with toys, charms, & jewelry that could be a choking hazard.  "Caution- Use only as directed. Discontinue use if rash, redness, or itching occur. Consult your physician if irritation persists. Keep out of the reach of children". 
Our classic bath & shower bombs are best used within 9-12 months. Please reach out to us if you need specific accommodations like allergies, etc. We will do everything that we can to get you what you want. 

Please be sure to thoroughly ready through all of the ingredients to ensure that these are safe for you.  
Ingredients include:
Sodium Bicarbonate, Citric Acid, Buttermilk Powder, Avocado Oil, Polysorbate 80, SCI, Phthalate-Free Fragrance Oil/Organic Essential Oils, Cosmetic Approved Dyes/Batch Certified Lakes, Kaolin Clay, Cream of Tartar, Sodium Alginate, Coco Glucoside, Corn Starch, 
Isopropyl Alcohol, & Distilled Water

We do have options that include shipping with moisture free reusable cold packs & cool shield packaging for an additional cost.
Purchase here: https://the-happy-unicorn-childrens-boutique.myshopify.com/collections/wax-melts-tarrs-scoopable-wax/products/cooling-packaging

MTO: Made to order. Typically ships within 2-4 business days.

RTS: Ready to Ship: Typically ships within 1-2 business days

Gift Wrapping is available: https://the-happy-unicorn-childrens-boutique.myshopify.com/collections/wax-melts-tarrs-scoopable-wax/products/gift-wrap-option