---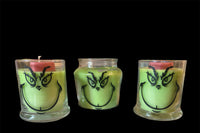 Grinch Candles
Created from the Seoul & The Happy Unicorn Children's Boutique
Don't forget to sign up for our rewards program and we now accept Sezzle!  FREE shipping on orders $75+ (not applicable to wholesale)
Place a safe amount of wax melts/tarts into your warmer. Turn on or light your warmer and enjoy the amazing aroma that it gives.  
 Our candles are handp poured in small batches.  We mix our Parasoy wax with safe fragrances, dyes/micas. & glitter.   
Remember to leave your choice of fragrance in notes at checkout (fragrances are subject to change).  Colors will be random unless notes or requested.  If there is a fragrance that you are looking for and not listed please contact me on our facebook page. www.facebook.com/iloveswt
Sweater Weather
Relaxation
Lavender Vanilla
Lavender
Black Cherry Merlot
Love Spell
Peppermint
Pink SUgar
Sandalwood 
Eucalyptus & Mint
Monkey Farts
Fruit Loops
Captain Crunch & Berries
Gingerbread
S'mores
Chocolate
Blueberry Cobbler
Cozy Cabin
Toasted Pumpkin
Sourpatch Kids
Gummy Bears
Peach Bellini
Juniper Berry & Pine
Green Tea
White Tea & Ginger
Toasted Pinecone
Starbucks Caramel Mocchiato
Berry Nice
Bourbon Vanilla
Sugar Cookie
Apple Cider Donuts
Cocoa Butter Cashmere
Please abide by all candle warnings listed on the bottom of the candle along with additional information listed on our website.

Purchase here: 
https://the-happy-unicorn-childrens-boutique.myshopify.com/collections/wax-melts-tarrs-scoopable-wax/products/cooling-packaging
MTO: Made to order.  Typically ships within 2-4 business days.
RTS: Ready to Ship: Typically ships within 1-2 business days
WHOLESALE:  Message me on Facebook at: www.facebook.com/iloveswt
Gift Wrapping is available: https://the-happy-unicorn-childrens-boutique.myshopify.com/collections/wax-melts-tarrs-scoopable-wax/products/gift-wrap-option