---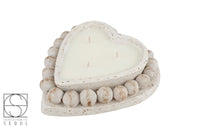 Heart CANDLE (clay vessel with beads)*
Created from the Seoul & The Happy Unicorn Children's Boutique
Must order by 1/25/22 in order for this to arrive by Valentine's
Don't forget to sign up for our rewards program and we now accept Sezzle!  FREE shipping on orders $75+ (not applicable to wholesale)
This is the perfect candle for every home.  It's simple yet exquisite look is just what your home needs. It also makes the perfect housewarming, Valentine's, Wedding Gifts.
Each clay vessel is handmade and hand painted giving each one an individual look.  All of our candles are made in small batches and handpoured in Minnesota.  We use parasoy wax to give you the best candle experience. 
The beads slide right off so you can use as decor for other items if you choose.  Please note that if you live in an area where the average temperature is more than 70 degrees we recommend adding the cooling packaging option to your order. Purchase: https://the-happy-unicorn-childrens-boutique.myshopify.com/products/cooling-packaging?_pos=1&_sid=1756c3c3f&_ss=r 
Please understand that these clay vessels are a natural handmade product, hand painted and colors will vary slightly. That is what makes them rustic and beautiful. Tone, smoothness, shape etc, all rustic. Please keep that in mind when you buy these.   
Candle Care & other important information: https://the-happy-unicorn-childrens-boutique.myshopify.com/pages/a-few-extra-things-to-note
We do not take responsibility for any damage that is caused by the the company (USPS, UPS, etc) used for shipping and/or climate.