---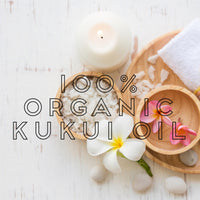 Organic 100% Kukui Oil
Created from the Seoul & The Happy Unicorn Children's Boutique
Kukui Nut Oil 100% Pure Organic Cold Pressed Unrefined
If you've used Kukui oil you know about all of the amazing benefi-ts it provides to you skin and hair.  If you haven't you're in for a treat.  
Kukui oil is not new to the skin care business but it's still one of the industries best kept secrets.  Hawaiians have been using this oil for centuries to protect against harsh elements like the sun, wind and salt water.  In addition its been used to stimulate hair growth, reduce fine lines, acne, eczema & other problematic skin issues. Kukui promotes collagen production, contains viatmins A, C, & E, and is packed with antioxidants & essential fatty acids.  It's viscoasity allows your skin to absorb quickly not leaving a greasy film behind.  
Skin Application: One half to full dropper of oil in hand and apply to skin (a little goes along way).  This can be used daily day/night.  Avoid eye area.
Scalp application: Apply oil directly to the scalp and pull through hair.  Wait 10-15 minutes and wash hair.  
To obtain unrefined kukui nut oil, the nuts of the kukui tree are cold-pressed to release the oils. The process does not require heat, since heating the oil may burn away the beneficial nutrients of the oil. The raw oil is left in its unrefined state to be used.  Make sure that bottle is completely closed between use.  Store in a dry cool area.  Exposure to excessive heat and sun will accelrate its shelf life.  Expiration date is listed on each bottle