---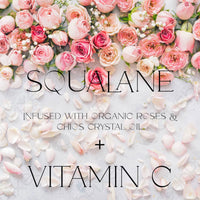 Squalane Rose Face Oil+Vit C
Created from the Seoul & The Happy Unicorn Children's Boutique
Orders will start to ship 2/26 for this product
Enjoy the benefits of this amazing face oil that contains natural botanicals and properties.  This luxuirios lightweight oil contains no preservatives, fragance oil, or unnatural dyes.  We use squalane oil (dreived from sugacane), shelf stable vitamin c, organic Kukui oil, a hint of chios crystal, and organic bulgarian rose white essential oil. 
Experience a visible change in your skin by using this face oil (1-2 day).  Not only will your skin will feel hydrated, firmer and smooth, but brighter glowing & healthy complexion that will give you that extra youthful boost.
.9 oz
Glass Dropper Bottle
Ingredients:
Squalane: Derived 100% from sugarcane is hydrates and locks in moisture.  Its clinically proven to reduce appear of fine lines and wrinkes and improve the skins overall moisture balance.  It is lightweight, asorbs easily, and suitable for all skin types.  It keeps your skin feeling clean, hydrated, and plump.
Kukui Oil: Hawaiians have been using this oil for centuries to protect against harsh elements like the sun, wind and salt water.  In addition its been used to stimulate hair growth, reduce fine lines, acne, eczema & other problematic skin issues. Kukui promotes collagen production, contains viatmins A, C, & E, and is packed with antioxidants & essential fatty acids.  It's viscoasity allows your skin to absorb quickly not leaving a greasy film behind.  
Oil Soluble Vitamin C (Tetrahexyldecyl Ascorbate): Ultra stable, this Vitamin C ester is a proven antioxidant, shown to help clarify and brighten the skin and stimulate collagen production.  It is extremely stable, making formulation easy. It also penetrates the epidermis three-fold compared to ascorbic acid, so you can use less with even greater results. When Oil Soluble Vitamin C is in contact with the skin, it separates into Vitamin C and Isopalmitic acid thanks to an enzyme called esterase.
White Rose Organic Essential Oil: White Rose has the beautiful scent of fresh roses with more complexity and sweetness than Rose Otto. White Rose is the rarest of all rose oils and only several liters are produced globally each year. It takes 50-60 million White Rose flowers to produce a liter of essential oil.  It is used for promoting clear, healthy, and hydrated skin.
Chios Mastic Crystal Oil: Mastic oil is a rare100% natural oil made from mastic resin, a resin of the mastic tree (Pistacia lentiscus).  The mastic oil is extracted from the original Chios mastic gum through a steam distillation process. It is used as an essential ingredient in health and care products.  Mastic can notably improve the health of your skin by reducing the appearance of pores, controlling the excretion of sebum, refining and clearing the skin, soothing irritated skin, eliminating comedones and microcysts, as well as reducing shine thus providing a smoother looking skin