---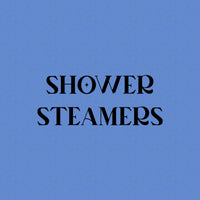 Shower Steamers infused with Menthol Crystals
Created from the Seoul & The Happy Unicorn Children's Boutique
Don't forget to sign up for our rewards program and we now accept Sezzle!  FREE shipping on orders $75+ (not applicable to wholesale)
The shower steamer color. If you want something specific please leave a note a checkout.  Please leave choice of fragrance(s) in notes at checkout.
Our shower steamers are made with real menthol crystals that are blended into our simple and clean recipe giving you an amazing alternative experience to bath bombs. Each package includes (2) shower steamers, an organza bag, & instructions.

Directions: Keep your shower steamer in the bag and simply hang it where it will be exposed to water (best used in indirect water). You can place this on the shower floor as well. Be very mindful where it is as stepping on it could be painful. The water and steam will activate the steamer releasing the menthol and your choice of fragrance. If your steamer does not completely dissolve in your shower hang it and allow to dry and use for your next shower.

DO NOT USE THESE IN BATH OR AS A SHOWER BOMB! The menthol makes them unsuitable for soaking and could seriously burn. Anytime handling the steamer inside the bag and/or direct skin contact on the hands please wash your hands immediately. Menthol is a powerful additive and will easily transfer to other parts of your body which can cause a strong burning sensation.

Popular Scents:
1. Relaxation
2. Agent 007
3. Sweater Weather
4. Freesia
5. Lavender
6. Spearmint
7. Eucalyptus Spearmint
8. Spearmint
9. Freesia
10. Pink Lilac & Willow
11. Lemon
12. Lemon/Spearmint
13. Black Sea
14. Jasmine
15. Honeysuckle
16. Amber Waters
17. Black Sea
18. Peppermint

Ingredients: Sodium Bicarbonate, Cream of Tarter, Cornstarch, Menthol Crystals, Witch hazel, EO/FO, Citric Acid, Mica

If you are interested in wholesale please message me at www.facebook.com/iloveswt
We do have options that include shipping with moisture free reusable cold packs & cool shield packaging for an additional cost.  Purchase here: https://the-happy-unicorn-childrens-boutique.myshopify.com/collections/wax-melts-tarrs-scoopable-wax/products/cooling-packaging
MTO: Made to order.  Typically ships within 2-4 business days.  
RTS: Ready to Ship: Typically ships within 1-2 business days
WHOLESALE: Message me on Facebook www.facebook.com/iloveswt
Gift Wrapping is available: https://the-happy-unicorn-childrens-boutique.myshopify.com/collections/wax-melts-tarrs-scoopable-wax/products/gift-wrap-option